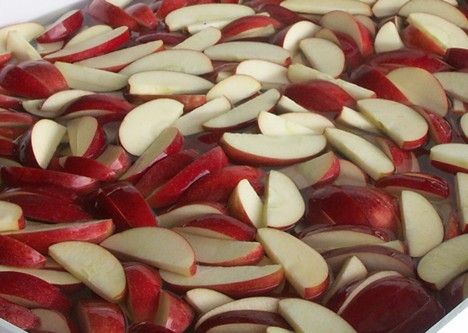 Back to overview
Consumption of ready-to-eat apple wedges on the up
Not everyone knows that apple peel has beneficial effects because it contains ursolic acid, which helps keep body weight under control. Therefore, the peel is precisely what gives apples that something extra! If, to this, we add the increasing habit of eating ready food, then we can explain the success of bagged apple wedges used as snacks.
FreshPlaza talked about it with Virginia Cascella, expert in the fresh-cut sector and sales manager at PND, an Italian company specializing in the manufacture of fruit processing machines.
"What is more, apple wedges have always been an ingredient in fresh fruit salad trays together with melons, pineapples and kiwifruits. The main destination for bagged apple wedges are school, public and company canteens, the big retail chain and the H&R sector (fast food restaurants part of leading chains in Italy and all over the world)."
"The new automatic apple wedging machine mod. CB8 is an automatic coring and wedging system developed specifically for apples. The system is made up of a tank to collect the fruit, an automatic orientator and a punching system that takes the apples to the cutting station. A buffer pushes the fruit on the die for wedging and coring."
Apples can be cut into as many as 20 wedges. The process is fully automatic: operators only intervene when the fruits are loaded into the tank. Wedges can be treated to prevent browning.
Want to read more? Have a look at: https://www.freshplaza.com/article/9263628/consumption-of-ready-to-eat-apple-wedges-on-the-up/